If you've spent any time wheeling, you've been in this situation.
We can't be too supprised that it happens... We air down (lower the air pressure in our tires) for increased traction. The tires flex more over obsticals. But they can flex away from the rim slightly and let sand/mud/sticks/rocks/etc in. Generally this is okay, but after a while, your tires will be lower than you want. The debris is keeping the bead from making a good seal on the rim.
Most tire shops can fix this for you. But what if you are out in the woods miles away from civilization?
You can use a large hammer if you brought one with you.
The process is to hammer on the sidewall next to where the leak is. The weight/momentum of the hammer does two things: It pushes the sidewall/bead in slightly to momentarily break the seal, and it loosens the debris on the rim. Then the small amount of air rushing out of the tire pushes that debris out.
This is easiest to do when the wheel is off the vehicle and flat on the ground, but can be done on the vehicle too.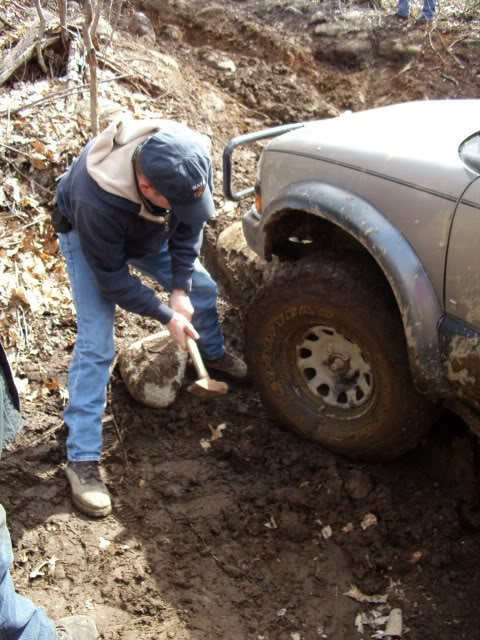 Use caution, as a hammer this big can dent/damage your rim if you hit it.
Steve